This is a tough one, but I've put this section in as I have been asked some really daft questions about breeding a litter! First question you need to ask yourself is "why?" I thought the "it would be good for the kids to see nature" thing was a cliche....until I heard it for myself! A DVD for the kids is a lot easier.
If you want to breed your bitch to keep a puppy of your own then I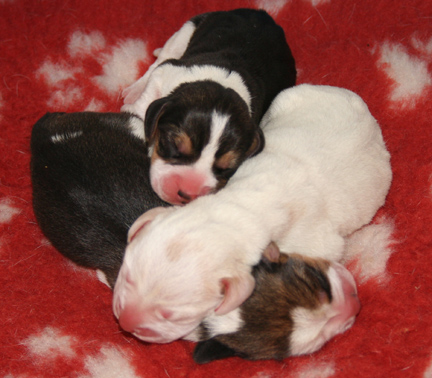 recommend you go back to the breeder who sold you your puppy and ask for advice.
If you want to breed to make money - I advise you not to. I have bred only 5 litters and ended up in the red with 3 of them by the time I added up stud fees (and any inherent travelling costs), equipment, food, vets bills, registrations etc. If your bitch is unlucky enough to require a caesarian at 2 a.m. on a Sunday morning you could be looking at a bill of some £500.
Unless you are totally heartless your big concern after the birth will be to find good homes for your babies - and be prepared to take them back should things not work out. The whole process from mating to saying goodbye to puppies will take up an enormous chunk of your time over a 4 month period.
More so than taking on a beagle, mating your bitch should be really thought through to see if you have the time, commitment and facilities to cater for breeding. Above all else, consult with your bitch's breeder.