Belsmard Summer Kiss b.13/05/03 by Brazilian and Portuguese Champion Bangor The Spartan Hero x Belsmard Tender Kiss. "Popples" was born in Spain and brought back to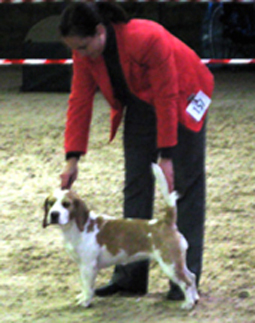 the UK October 08. Lightly shown here in the South she qualified for the Dorset Top Dog competition and I so enjoyed showing her and competing in the Adult Handling classes. Her one and only Champ show was at Bournemouth where she was 4th in a quality class of bitches. Two weeks later she won her class at Salisbury open show. Going lame the next day for no apparent reason she continued to go down hill with neck pain and difficulty in walking. After normal x-rays showed nothing she was given pain relief which unfortunately did not help. Specialist spinal examination and a further spine x-ray revealed a misplaced neck bone, which was affecting her spinal cord. A decision was made not to bring her round from these later tests. We were with her then at that time but the shock of this was almost too much to bear for us.

The very next morning Marina and I had to fly to Edinburgh and then journey south to be ready for Marina's judging appointment on Saturday at Four Counties Beagle Club. I found it a very hard weekend as all I wanted to do was cry. However the sheer beauty of the lovely beagles all around me was a treat I shall treasure.

Unfortunately our beagle pain was to continue. Before Popples went sick her Mum, Belsmard Tender Kiss (19/10/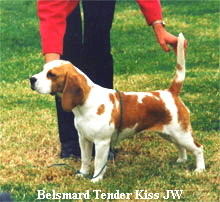 99), had been diagnosed with Lymphoma cancer which had started with a few small red spots like ant bites. Tests showed she had low stage leishmaniosis also which ruled out any chemo. Nothing could be done and she had been given 4 wks to live. The skin cancer spread daily like a weed and became very uncomfortable for her. Only 9 years old she was put to sleep just 2 days after Four Counties. She was by Belsmard Double Kiss who had gone to America and her father was Ch Craigmount Ben Bhreac. She did well as a puppy, gained a RCC and went Best in Show at her first Spanish National show.

Our 3 year old cocker spaniel loves being with us but of course is missing his girls in his doggy way. At the moment Dave and I are walking the socks of him to tire him out and personally I also feel better away from the house.

Having never been without a beagle for 40 years is difficult, but losing our only 2 beloved bitches we bred in 4 days is too much.

Thanks to the beagle folk who have hugged and offered comforting thoughts.

Love your beagles every second of the day as we did.

On a positive note, The Scottish Beagle Club web site is brilliant, one of the best I've looked at - well done!!!!!

Our regards to everyone who remembers us and have good luck and fun with your beagles.

From Maggie and Dave White.